Hello! My name is Evelynn and I look forward to hearing your story.
Walking through life feeling uprooted, disconnected, and not your best self is exhausting, and difficult. I work with you on examining your whole self, from past-to-present to address issues preventing you from feeling your best self. My goal is to help you feel more empowered, and have a more satisfying life and satisfying relationships.
---
I understand what it's like to feel marginalized due to your identity, and my goal is to provide a responsive and affirming therapeutic space, where you feel understood in order to build resiliency and uncover your strengths.
Contact me at evelynn@evelynnhernandezbrown.com to schedule a complimentary 15 minute phone consultation.
About me
I am LatinX (pronouns: she/her/ella), Mexican-American, born in California and a daughter, wife, and mother.
I have been a practicing therapist in Oakland for the past 6 years and believe that therapy should be a truly collaborative, genuine, and personal encounter. I have practiced with a wide range of people including children, youth, adults, and parents with diverse backgrounds, on a variety of topics. I'm passionate about working with people from marginalized communities to destigmatize mental health. I enjoy coffee, cooking, dancing and reading.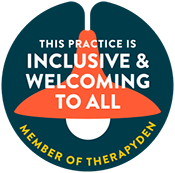 Licensing info
Licensed marriage and family therapist in California – LMFT 111778