Hello! My name is Evelynn and I look forward to hearing your story.
Walking through life feeling uprooted, disconnected, and not your best self is exhausting. Past stuff has a way of showing up again in current relationships, and I support people with exploring, understanding and un-doing the old stuff that's getting in the way of your current relationships. My goal is to help you feel empowered, and have a more satisfying life and satisfying relationships. Let's talk!
Note: Prior to March, we would meet for your intake session in my office. Since the social distancing directive has been put in place, for health and safety reasons we'll be meeting online on a HIPAA compliant, confidential platform. During your intake phone call we'll be discussing how to access the platform, payment, and how to get the most out of our sessions together.
CONTACT ME AT EVELYNN@EVELYNNHERNANDEZBROWN.COM TO SCHEDULE A COMPLIMENTARY 15 MINUTE PHONE CALL
I understand what it's like to feel marginalized due to your identity, and my goal is to provide a responsive and affirming therapeutic space, where you feel understood in order to build resiliency and uncover your strengths.
About me
I am LatinX (pronouns: she/her/ella), Mexican-American, born in California and a daughter, wife, and mother.
I have been a practicing therapist in Oakland for the past 6 years and believe that therapy should be a truly collaborative, genuine, and personal encounter. I have practiced with a wide range of people including children, youth, adults, and parents with diverse backgrounds, on a variety of topics. I'm a social justice advocate, and passionate about working with people from marginalized communities to support healing in traumatized communities. I enjoy coffee, cooking, dancing and reading.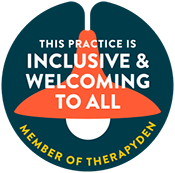 Licensing info
Licensed marriage and family therapist in California – LMFT 111778